NEET Model Papers: NEET UG Model Papers
Dear visitors, we are overwhelmed with your response, comments and admiration in respect to our NEET UG interactive and self preparatory coaching tool.
It has always been our endeavor to provide student communities with FREE testing mechanism in the form of MCQs model question papers for their entrance preparation.
"GELI Question Papers" has uploaded hundreds of model question papers for NEET UG which you can access from the left panel as shown in the figure.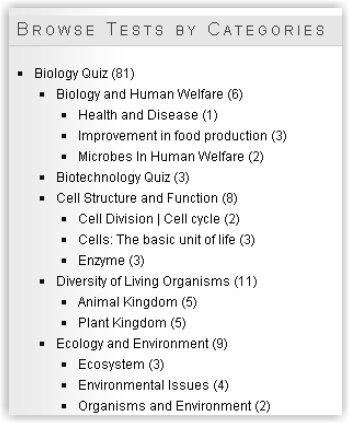 The entire syllabus of NEET has been divided into several sub-topics to make the testing more convenient.
All these value-added model question papers for your NEET UG preparation are easily accessible with immediate answering and reporting.
One of the important aspects of these model question papers is that these are placed in our blog which enables you to grade each question paper as per its likelihood, post your comments and get a response from other likeminded viewers of this website.
It is quite evident from the fact that the prescribed NEET UG syllabus is almost a replication of NCERT syllabus; thus we presume the previous questioning pattern is most likely to be followed.
The following chart gives you an idea about what should be the question distribution for the generation of a model test paper for NEET UG (Biology)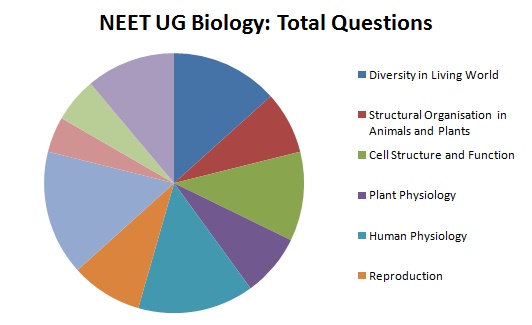 Generated based upon NEET UG 2016 Question distribution.
To access all Biology Questions browse through the different categories listed in left sidebar.
You are free to post your comments and provide us with a feedback.
ANALYSIS OF ZOOLOGY PORTION OF NEET-UG 2016

Topics
Total Questions
Animal Kingdom
3
Biotechnology
5
Evolution: Theories and Evidences
4
Human Health and Disease
4
Human Physiology
11
Human Reproduction and Reproductive Health
6
Biomolecules
3
Structural organisation in Animals
2
Total
38
ANALYSIS OF BOTANY PORTION OF NEET-UG 2016

Topic
Total Questions
Living World
1
Biological Classification
5
Plant Kingdom
1
Morphology of Flowering Plants
5
Anatomy of Flowering Plants
1
Cell Unit
5
Cell Cycle and Cell Division
4
Plant Physiology
6
Reproduction in Flowering Plants
6
Principle of Inheritance
5
Molecular
3
Strategies
1
Microbes in Human Welfare
1
Ecology and Environment
8
Total
52